Ultrasonic Fat & Cellulite Burner + Cream For Ultrasonic Fat Burner (300ml)
Regular price
$99.80 USD
Sale price
$47.90 USD
Unit price
per
This is one of the EASIEST ways to smash unwanted fat cells, say goodbye to cellulite and tighten your skin from home. Fast and Safe Effects in 2 Weeks! Slim  Your Body ✨
Lose Weight & Slim Down by Melting Fat !
The ultrasonic waves break down the fat cells into free fatty acids, which are naturally eliminated by the body's lymphatic system, essentially causing your body to burn fat, resulting in weight loss, skin tightening and slimming.
Say Goodbye To Cellulite & Stretch Marks Within 2 Weeks!
The far infrared function will penetrate the deepest layers of your skin which will stimulate blood circulation, enhance collagen production and rejuvenate old skin cells, causing your skin to strengthen and firm up.
Cavitation treatments at a local beauty center can cost hundreds of dollars upwards for a single session. Most often, clunky devices from the last century are used that are no longer as effective.

Our Body Slimming Machine targets problem areas and you will see noticeable results within 2 weeks!

Experience a visible reduction in cellulite, better body contour and firmer, tighter skin, all from the comfort of your own home.
Easy To Use 
Following this instructions once per day you will see noticeable results for 2 weeks!

1- Moisturize The Areas You Wish To Treat With Our Weight Loss Anti Cellulite Fat Burner Cream and our cream for fat burner massage (included in the box) 

2- Massage Your Belly, Hips, Thighs, Booty and Neck (according the Areas you wish to treat) 20 minutes daily.

The Body Slimming Device generates infrared heat and stimulates blood circulation under the outer layer of the skin. Fat deposits are broken down and eliminated naturally by the body.

3 Treatments in 1 Device
This handheld device combines 3 of the latest and most effective clinically proven technologies a woman needs to look younger.

Cavitation with ultrasound
The ultrasonic waves break down fat cells into free fatty acids, which are naturally removed by the body's lymphatic system, so your body burns fat, loses weight and becomes slimmer.

EMS (Electrical Muscle Stimulation)
The EMS function activates all muscle fibers to prevent muscle atrophy and increase blood circulation. This stimulation causes your muscles to relax and burn fat as energy.

Infrared light
Far infrared function penetrates to the deepest layers of the skin and stimulates blood circulation, promotes collagen production and rejuvenates old skin cells, strengthening and tightening the skin.

The synergistic combination of massage and advanced technology helps increase microcirculation and improve lymphatic drainage (the release of toxins from the body), creating an unsurpassed method of fat loss.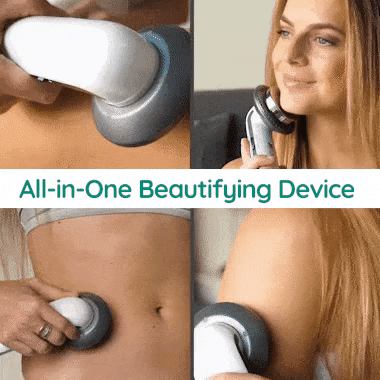 Do i need to use a cream or a gel ?
Yes, you do!! The device can't be used on dry skin. For best results we recommend using our Cream For Ultrasonic Fat Burner, however, you can use any water-based gel such as an ultrasound gel, aloe vera.
Also you can get an EXTRA 15% OFF Weight Loss Anti Cellulite Fat Burner cream if you add one with  Ultrasonic Fat & Cellulite Burner
Share