The Best USB Silent Fly Trap - Best Indoor Fly Killer
Regular price
$59.97 USD
Sale price
$37.97 USD
Unit price
per
Enjoy Your Summer Without Flies & Bugs



We all love spending time outdoors on the patio, enjoying family time, having a BBQ, or going camping on the weekends. As summer approaches the only thing ruining the outdoors is annoying bugs, constantly swatting them off of our food and bodies gets old really fast. It happens year after year, but not anymore! 
Stop flies & bugs from bothering us and spoiling our food throughout the summer months. This USB Fly & Bug Trapping Device is completely non-toxic and safe for anybody to use! Say goodbye to chemical sprays! This captures any flies, fruit flies, mosquitoes, and all other annoying bugs!



This USB Bug Trapping Device is a paradise for flies, mosquitoes, and bugs. Using their favorite snack (sugar & water) they will have no reason to land on you or your food. We spent months creating this design and testing it in the most infested areas. We found the flies instantly go for the sugar and water over any food or human in the area. The Fly Trap is constantly rotating around the 5 individual bait traps, the rotating top includes 5 arms that swoop around the bait trap constantly gathering any flies or bugs that are enjoying their snack. It then brings them into the trap making them unable to escape. This will make even the most highly infested areas bug-free in just a matter of minutes.

There is a release for the trap container on the bottom so you can set them free somewhere else or dispose of them once they die, the choice is yours. It works great for the Deck, Patio, Living Room, Bedroom, Trailer, and Tent.


Features:
USB cable, safe and convenient.

Can be reused, High-cost performance.

Physical fly traps, safe, non-toxic, and environmentally friendly.

High-efficiency capture.
Use method:

Spread the bait on the 5 grooves (Please do not use hard objects as bait).

Connect the power and turn on the switch.

The fly is attracted by the bait and transferred into the box by the rotating plate.

Remove the fly trap box and clean.
Specifications:
Voltage: 220/240V

Frequency: 50/620HZ

Product size: 27.9*2.8in
Package includes:
1 x Fly Trap Device
1 x USB Cable Without Plug
Share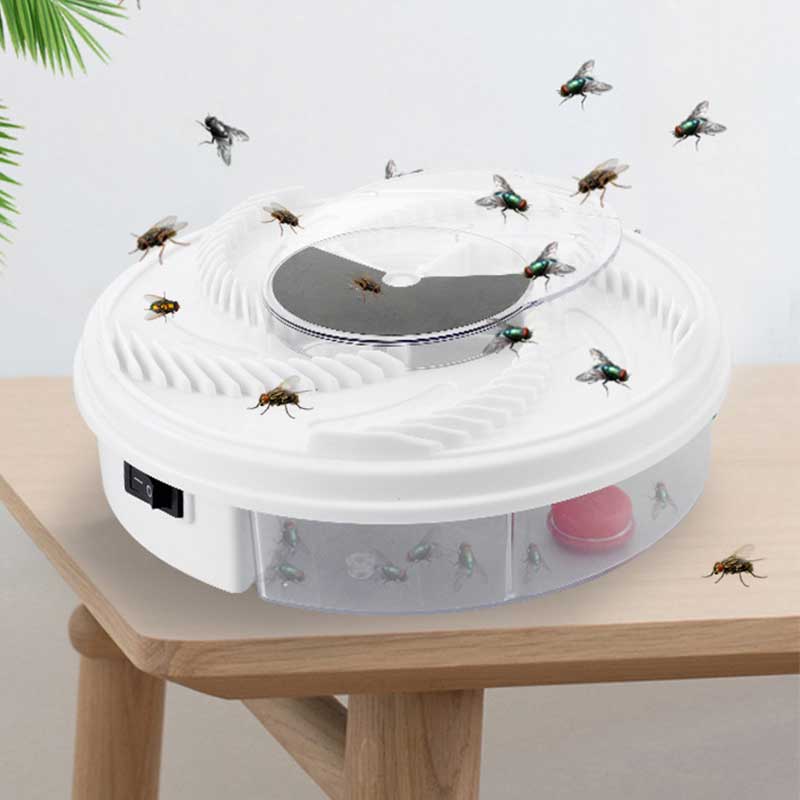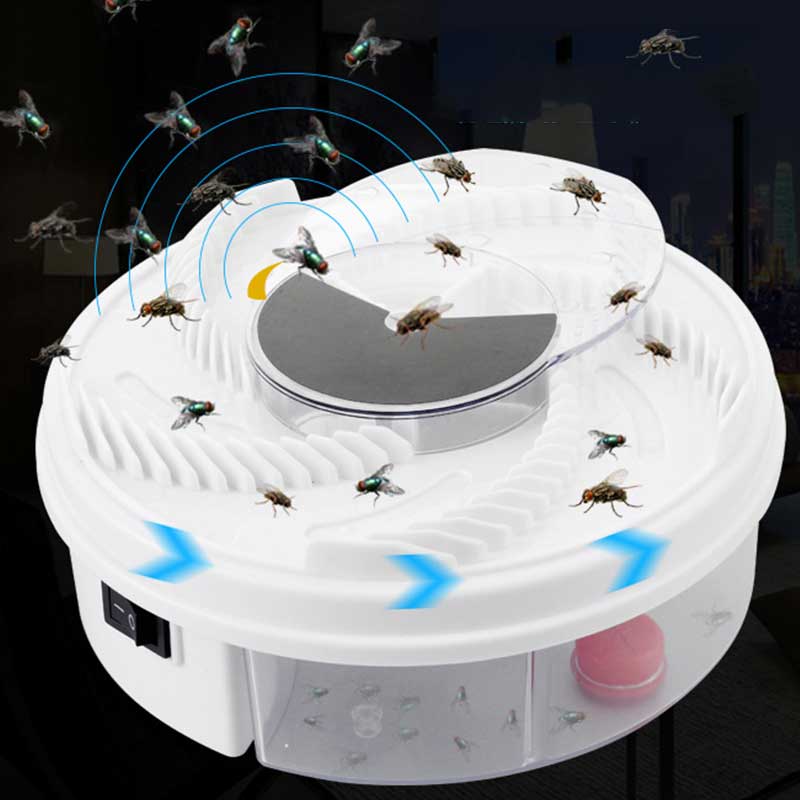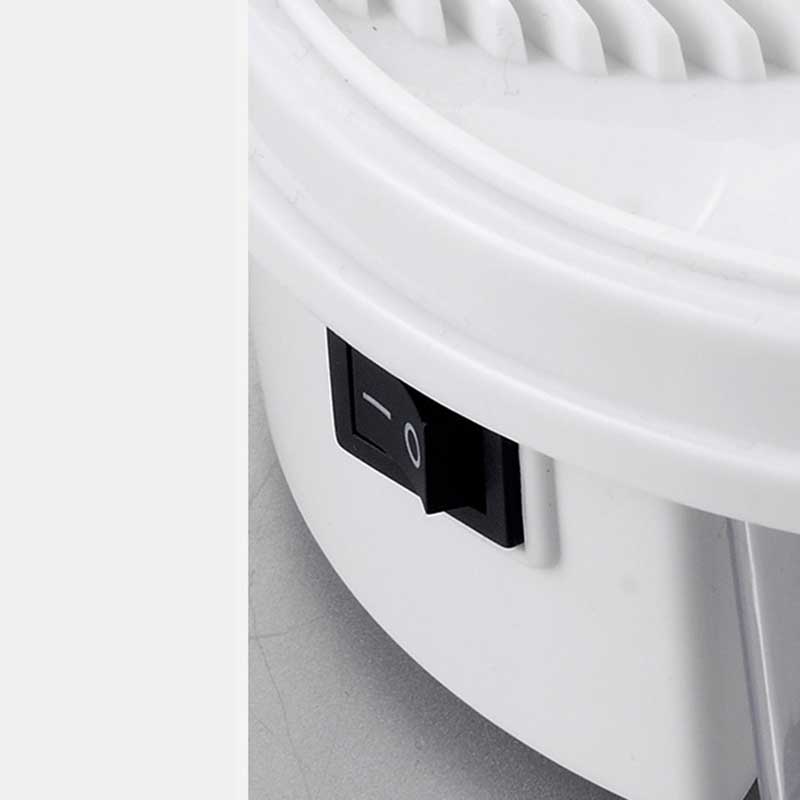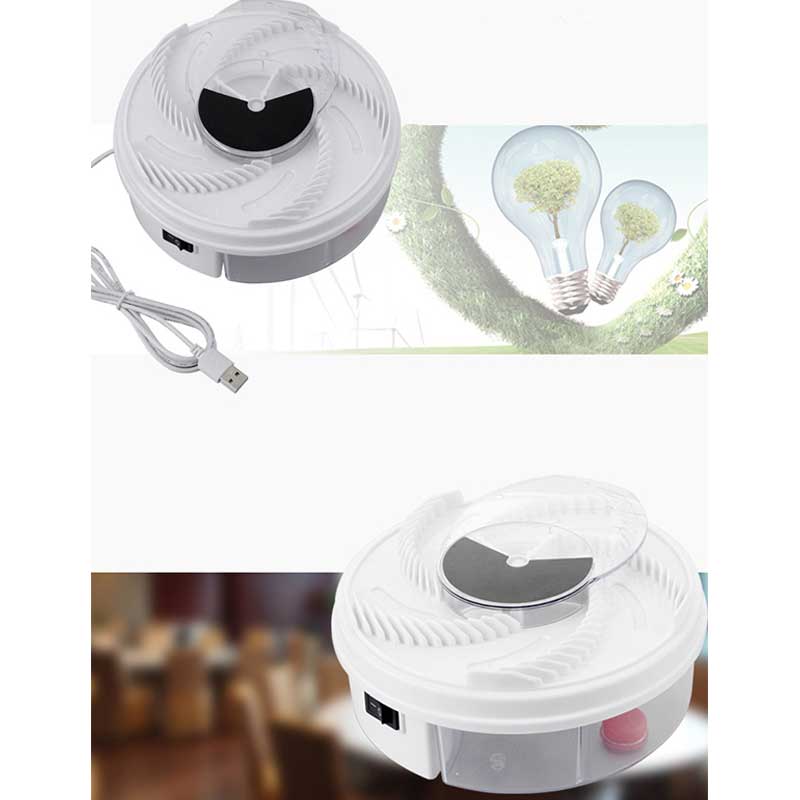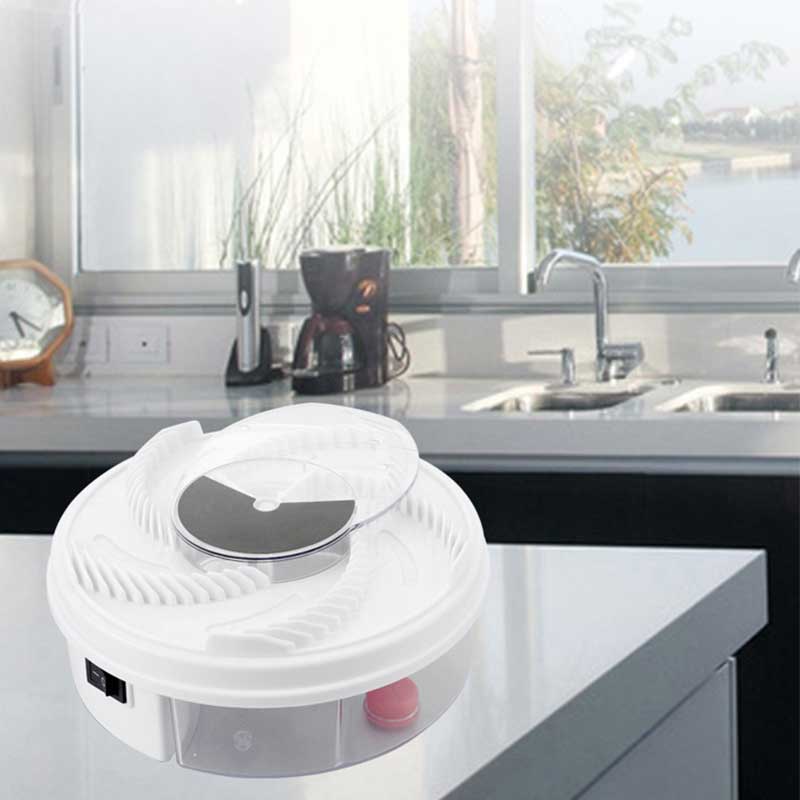 It works properly, it's worth any bait that attracts flies, you don't need to expect the fly to die, you just have to release them out of the house, very useful!
the item is really amazing, the picture is used after for a day, recommend all of you to buy one, you will be shocked with it .live with no flies, thank you!
Amazing item , it is really convenient ,can be powered by a mini power bank ,we can put it anywhere that we want ~ thank you!