3 Speed Vibration Massage Shoulder Massager & Heating Pad
Regular price
$119.99 USD
Sale price
$69.99 USD
Unit price
per
Say Goodbye to shoulder pain With Our New Speed Vibration Massager!!
The 3-Speed Vibration Electric Massage Shoulder Pad was designed to relieve shoulder and neck stiffness and injuries. 
Offers Heat and Massage of The Shoulder Area At The Same Time

A/C Adapter and USB Power Cord for Portability

Adjustable Massage Elements

Features:
3 Adjustable Heating and Vibration- Heated shoulder brace has 3 vibration and heating modes. Lowest - temperature range 40℃/104℉ to 50℃/122℉. Medium - temperature range 50℃/122℉ to 60℃/140℉. Highest - temperature range 60℃/140℉ to 75℃/167℉. Note: Please fully charge before first use for better effect.
LED temperature display and low battery warning - LED temperature display helps you choose the most comfortable temperature. LED The display will show the battery power when it drops below 5%, and it will beep to remind you to check the usage time and recharge it in time.
Fits left and right shoulder- Adjustable heater shoulder strap size: Chest circumference 27-55 inches; arm circumference 9-16 inches. Flexible straps ensure comfort for all people. Shoulder compression sleeve is suitable for men and women.
Heated shoulder pads wrap is made of high quality neoprene material for added comfort and also provide stability support and optimal compression. 
Shoulder Bandage Massager and USB Charged- Heated shoulder bandage helps you relax muscles and provides super comfortable heat massage for your shoulders. Electric shoulder support is a great tool for shoulder care for frozen muscles. Cordless adjustable electric shoulder brace use a USB charging design that can be used in anytime no matter you are working or sleeping.
How To Use
Step 1. Connect strap to the buckle that is on the brace. Once strap is in place, put the brace on your shoulder.
Step 2. Stick it on your arm and make sure that it is in a comfortable and desirable position.
Step 3. Pull the long strap from under the other arm, put it through the buckle, and now pull it from the other side of the buckle. Use the extend strap included to prolong the whole strap if it is too short for your need.
Step 4. Secure the strap and make sure to have a firm, then press the heating and the massage button to the proper level to enjoy vibration combined with heating massage.
Shipped with Care
All orders are carefully examined and packaged by our Quality Assessment Team prior to leaving our warehouse. This way, we ensure supreme quality for all of our loyal customers. 
Product information

Product name: Controller version heating shoulder guard
Material: diving fabric
Power supply mode: USB charging
Voltage: 5V
Power: 7W
Built-in battery capacity: 5000amh
Gear position: 3 gears
Charging time: 3 hours
Product size (in): 17.7*12.5*.4
Packing size (in): 9.4*6.1*2.3
Weight: 1.1 lbs
Heating gear: 3 gears (60℃-75℃ 50℃-60℃ 40℃-50℃),
Vibration gear: 3 gears
Working time: Massage: 14 hours Heating: 2 hours Massage and heating: 2 hours

Packing list
Heated shoulder*1
31.4 inch  strap*1
11.8 inch extension band*1
1 meter Usb charging cable
Manual*1


Shipped with Care and guarantee
All orders are carefully examined and packaged by our Quality Assessment Team prior to leaving our warehouse. This way, we ensure supreme quality for all of our loyal customers. 
We have 24/7 email support.
Share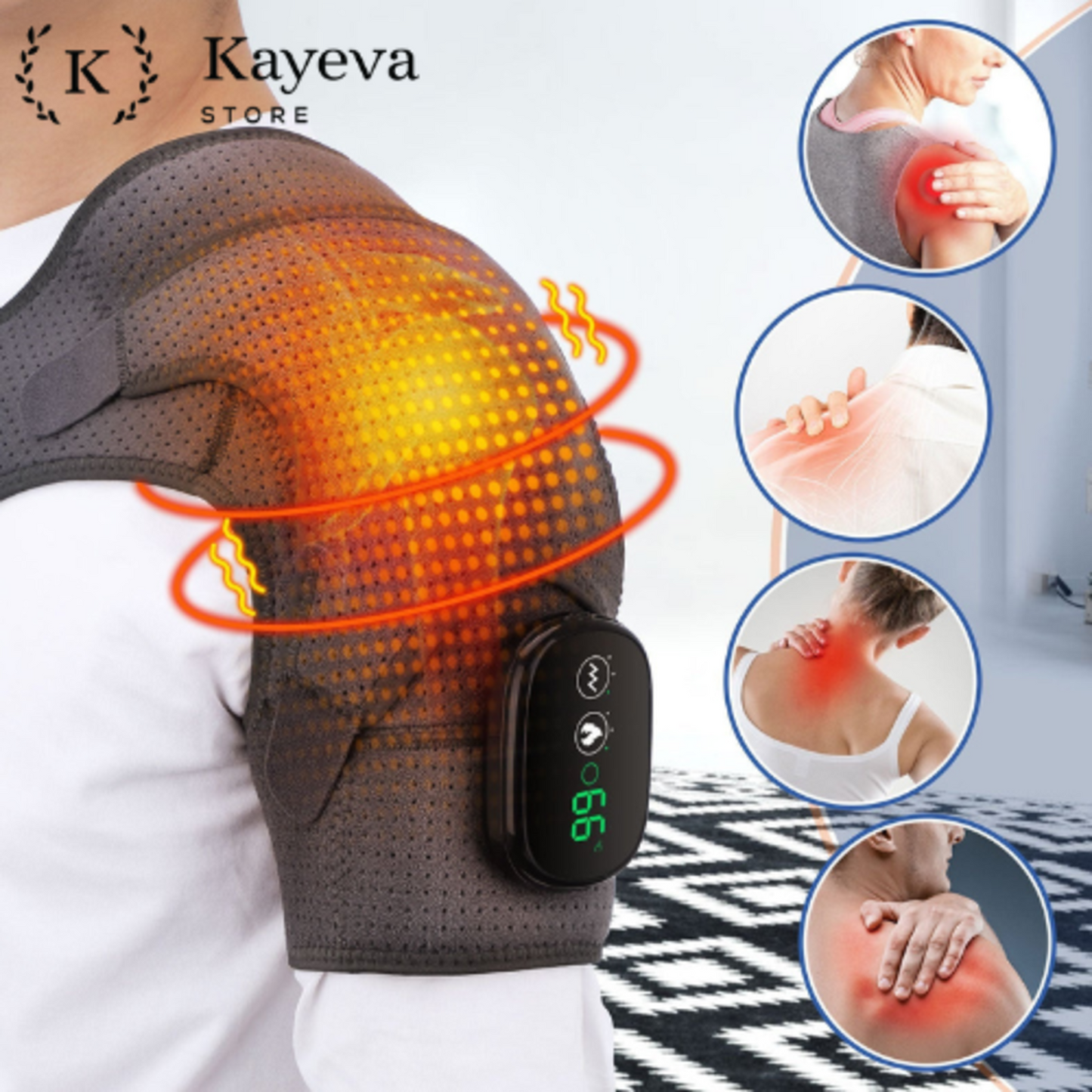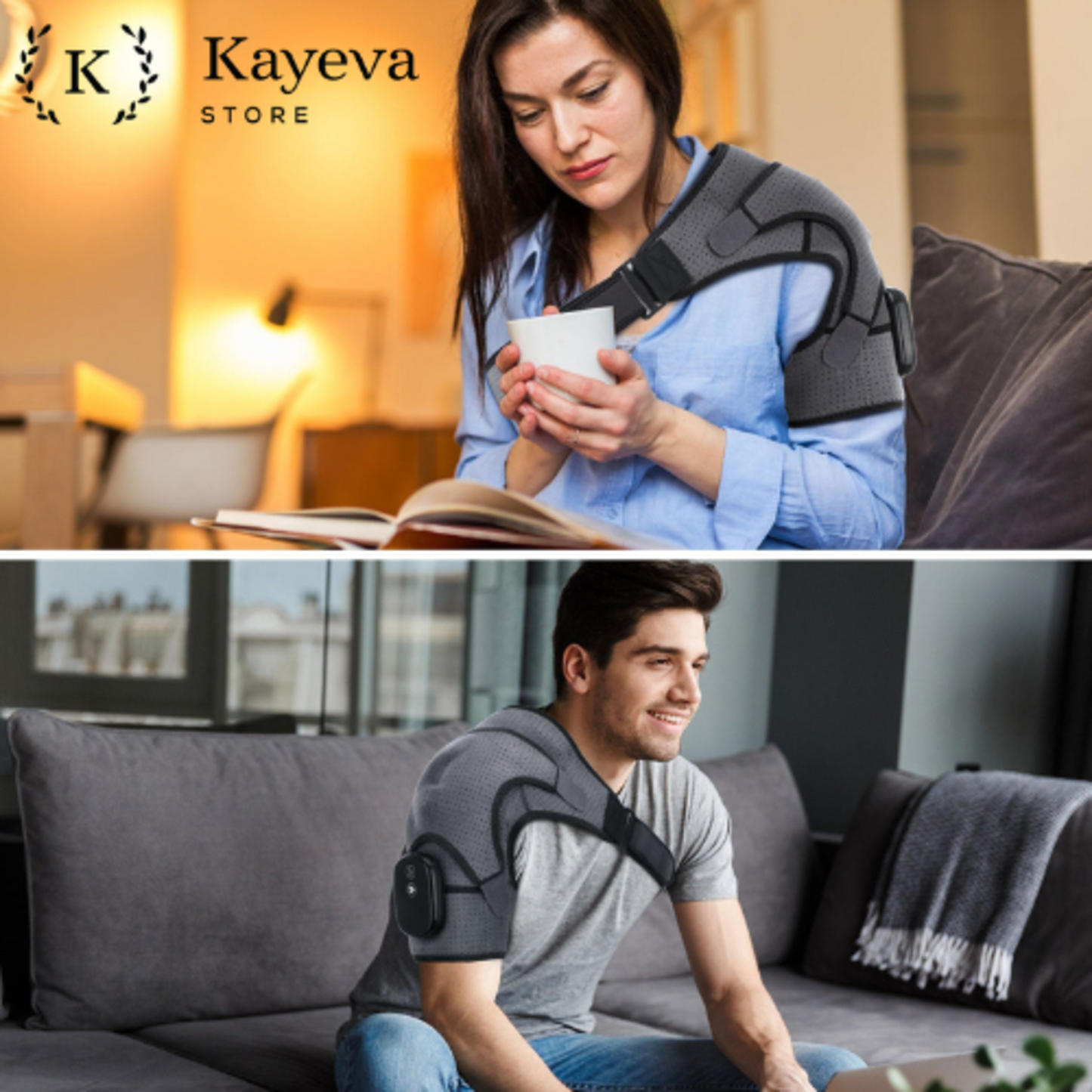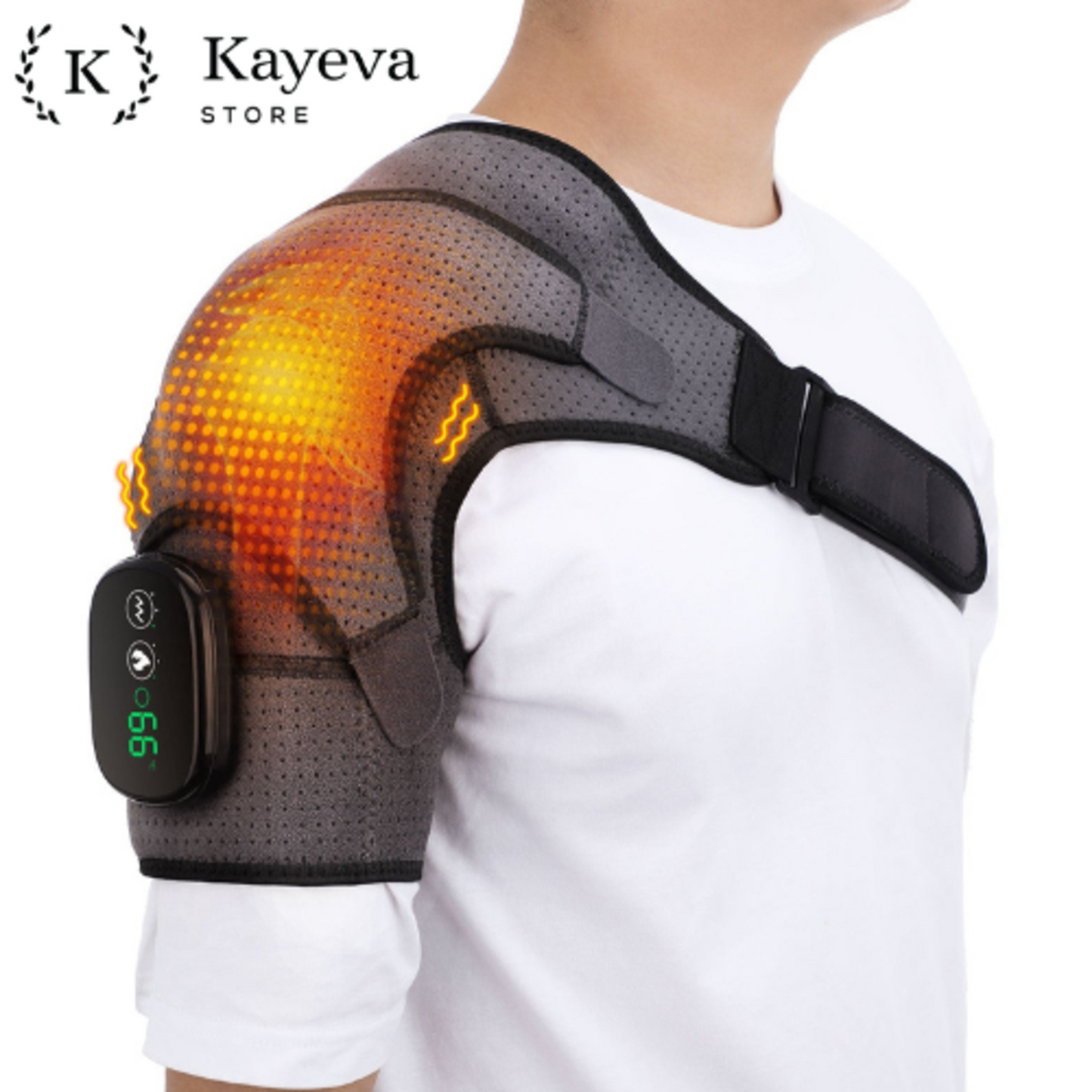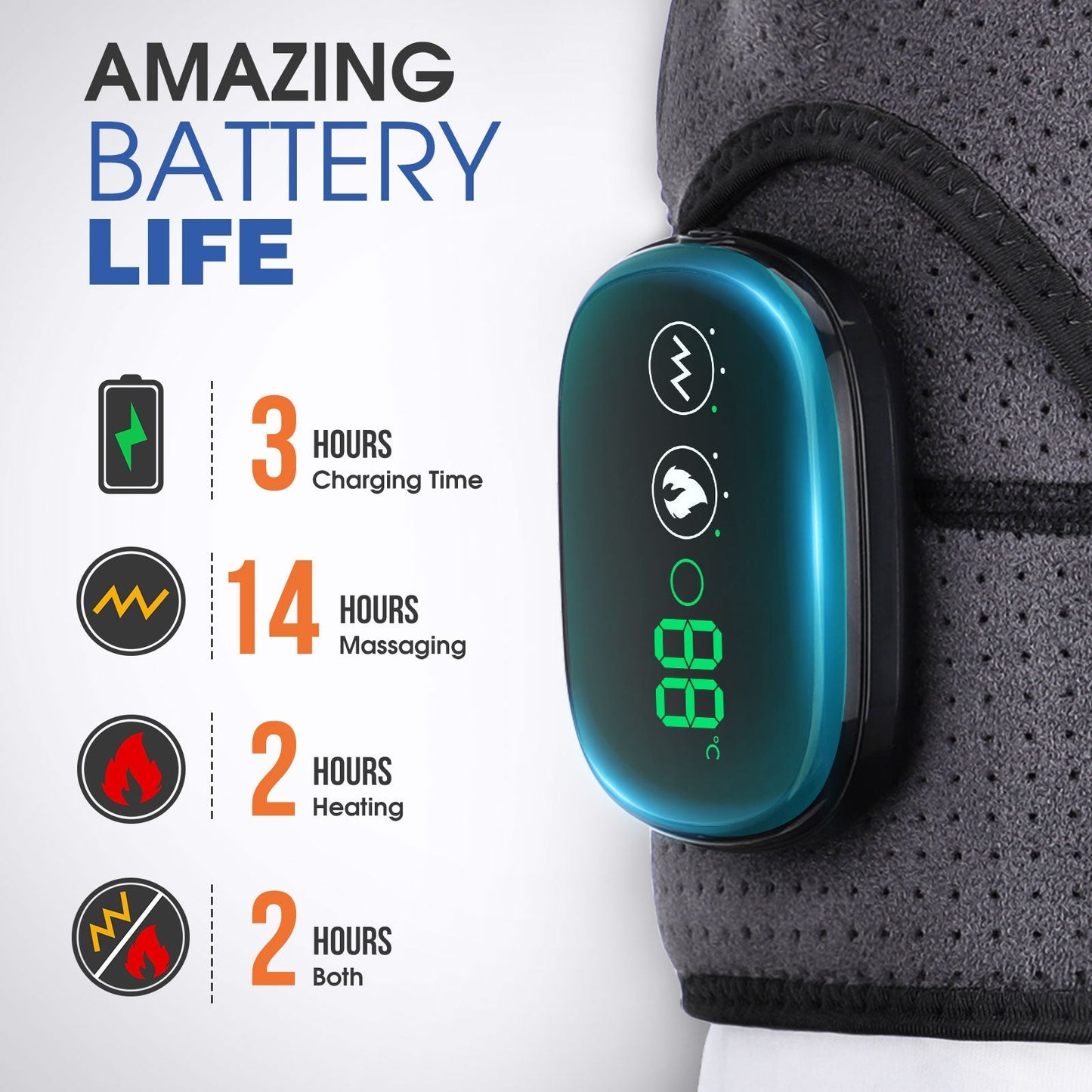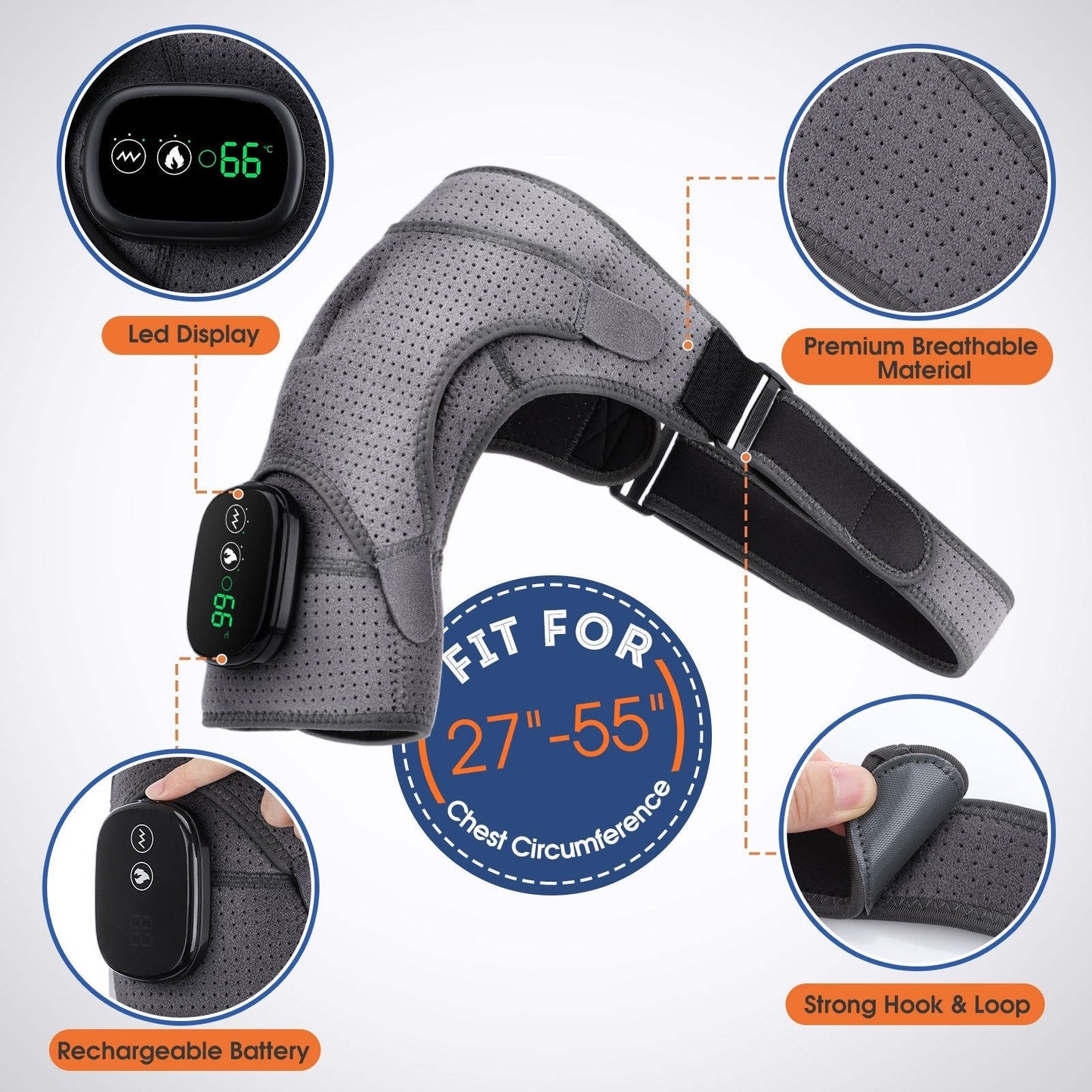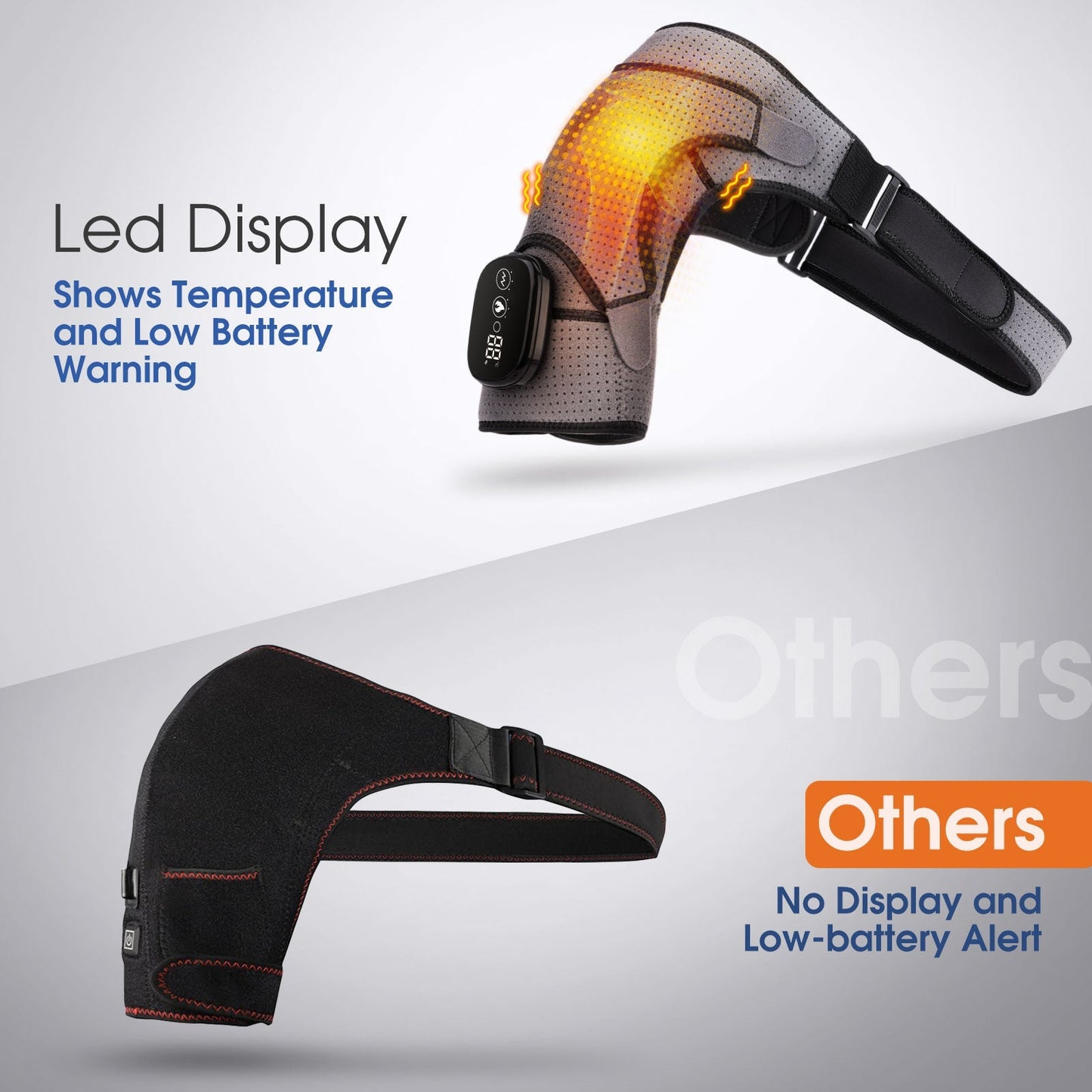 My wife is facing a complete shoulder replacement and has severe shoulder pain. This device is a godsend as it provides her great relief when using it for just 15 minutes at a time. Definitely would recommend.
This device is awesome! It also works on the knee. Really enjoy the heat and massage. Definitely recommend it
Works like a charm!Just got it today. Works well, you don't have to be connected to a wire is a plus! I can walk around in my room with it on. Great Product, big help!!
A person with a shoulder injury will definitely need help strapping this around their body.